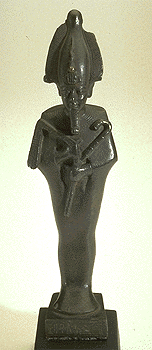 The stomach, liver, intestines, and lungs were mummified separately and placed in individual containers called canopic jars. Each organ had a specific god to watch over it. These four gods were called the Sons of Horus.
Imsety , a male figure, guarded the liver.
Hapy , a baboon, looked out for the lungs.
Duamutef , a jackal-headed god (not Anubis ), watched over the stomach.
Qebehsenuef , a god with the head of a falcon, was responsible for the intestines.
The lid of each jar was made in the form of the watchful god. These jars could be made from wood, stone, pottery, or other materials, and were often stored in the tomb in their own stone or wooden chest.