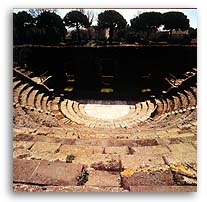 Odeum (small theater) in Pompeii
There were several types of theaters used in Roman towns for different types of performance. For popular entertainment, like comedies or mime, they borrowed the Greek theater form. A half-circle stage was surrounded by stepped seating made of stone.

For large spectacles and sporting events, the Romans invented their own building design - the amphitheater. It was a large oval arena, surrounded by tiered seats - very similar to a modern football stadium.