Andrew W. Mellon Advanced Fellowship in Objects Conservation
With support from the Andrew W. Mellon Foundation, the Parsons Conservation Laboratory offers a 2-year advanced fellowship. The Fellow participates fully in the varied activities of the lab, including examination, treatment, preventive care, as well as mentoring of students and volunteers. Conservation projects focus on the Museum's archaeological and ethnographic collections. The conservation fellow collaborates closely with curatorial fellows on technical examinations of collection objects and is encouraged to undertake research projects that incorporate the University's resources including scholars, libraries, and analytical facilities.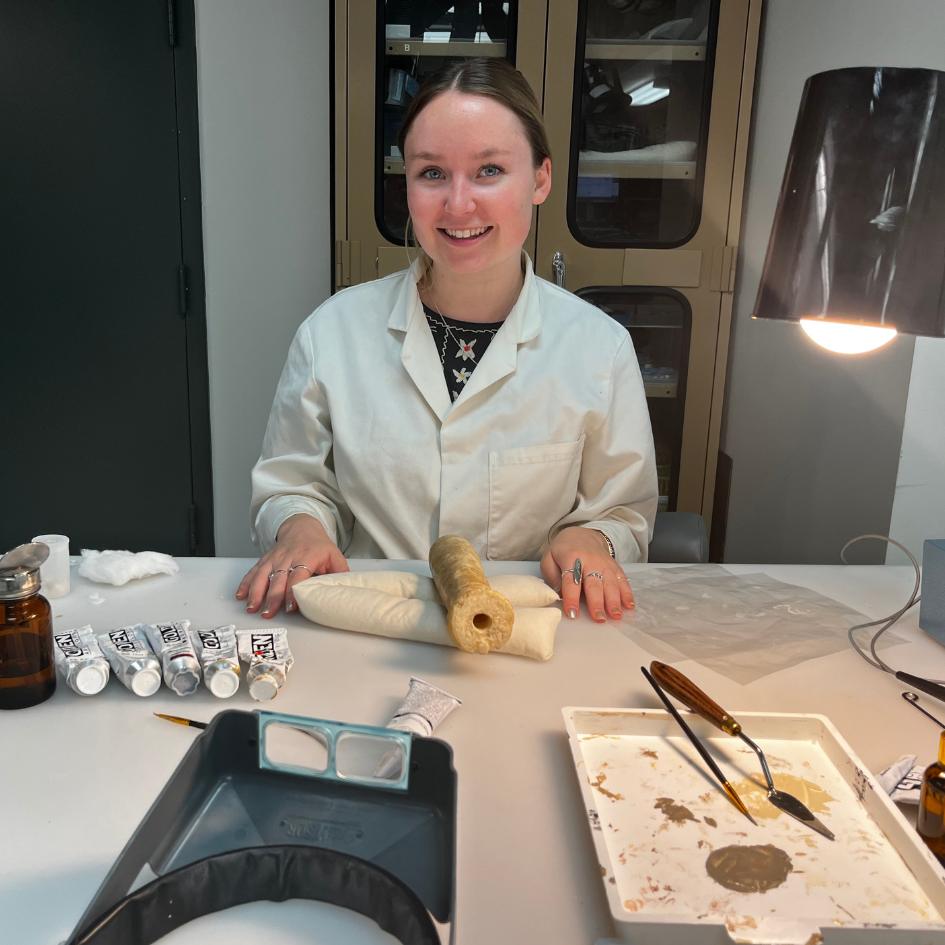 Ella Andrews
2022 – Present 
Ella Andrews recently completed her graduate studies in conservation for archaeology and museums at University College, London. She worked at the Fitzwilliam Museum in Cambridge and the Institute for Archaeology in London, along with archaeological projects in Egypt, Israel, the United Kingdom, and the United States. Ella received an undergraduate degree in applied anthropology with a concentration in archaeology from the University of North Carolina, Charlotte. She will undertake treatment and preventive care projects and will also assist with supervision of students in the lab.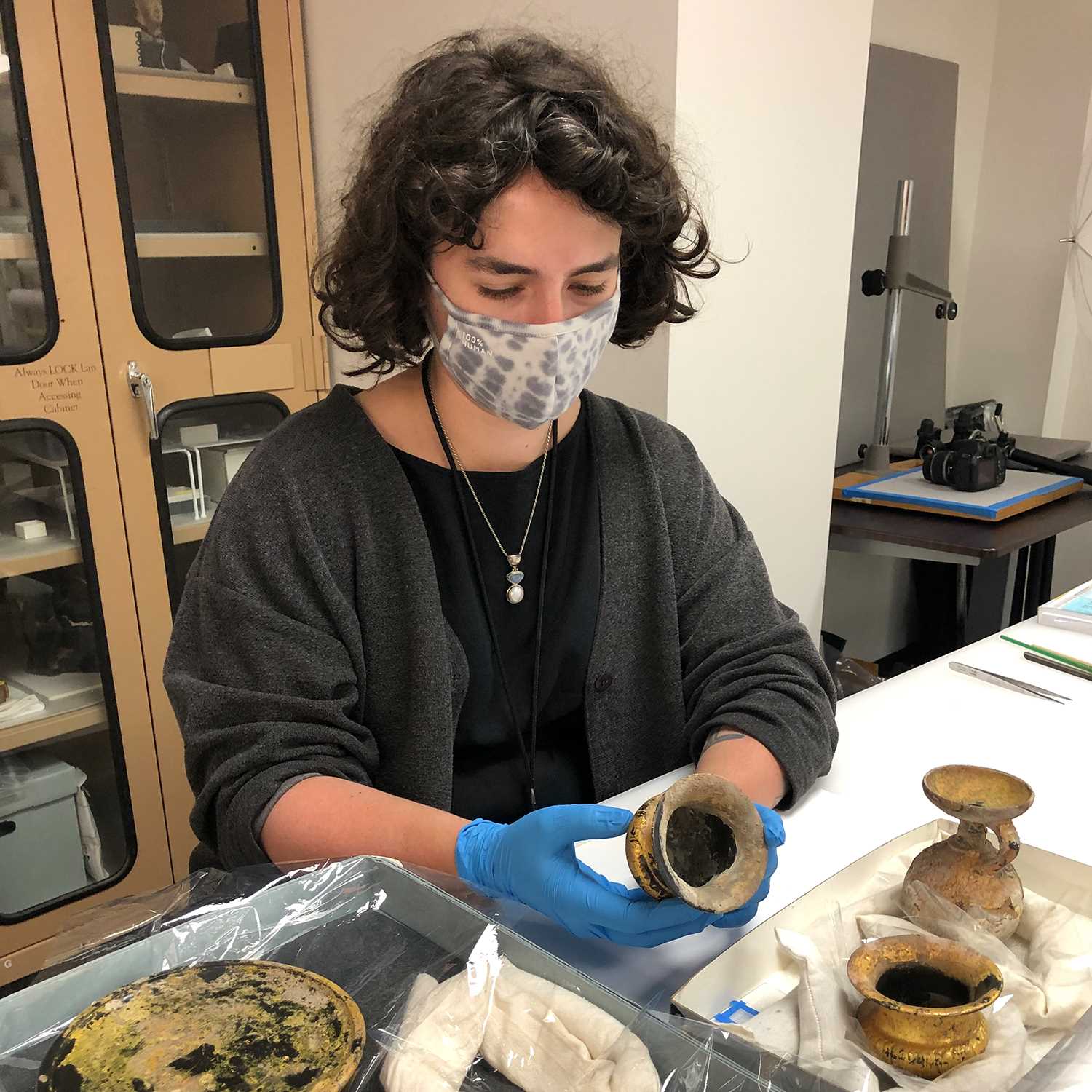 Kaitlyn Wright 
2019 – Present 
Kaitlyn Wright is the current Andrew W. Mellon Advanced Fellow in Objects Conservation in the Parsons Conservation Laboratory. While at the Carlos Kaitlyn has examined and treated silver objects for reinstallation in the Greek and Roman Galleries and Egyptian objects for the upcoming exhibition of the Senusret Collection.  She has collaborated on technical studies with graduate students in Art History and is researching the technology of ancient gilded surfaces. She received her Masters in Art Conservation specializing in objects from SUNY Buffalo State College, completing internships at the Metropolitan Museum of Art, the Athenian Agora Excavations, and the Institute for Aegean Prehistory - Study Center East Crete. Kaitlyn earned her BA in Art History with a minor in German Language and Literature from the George Washington University.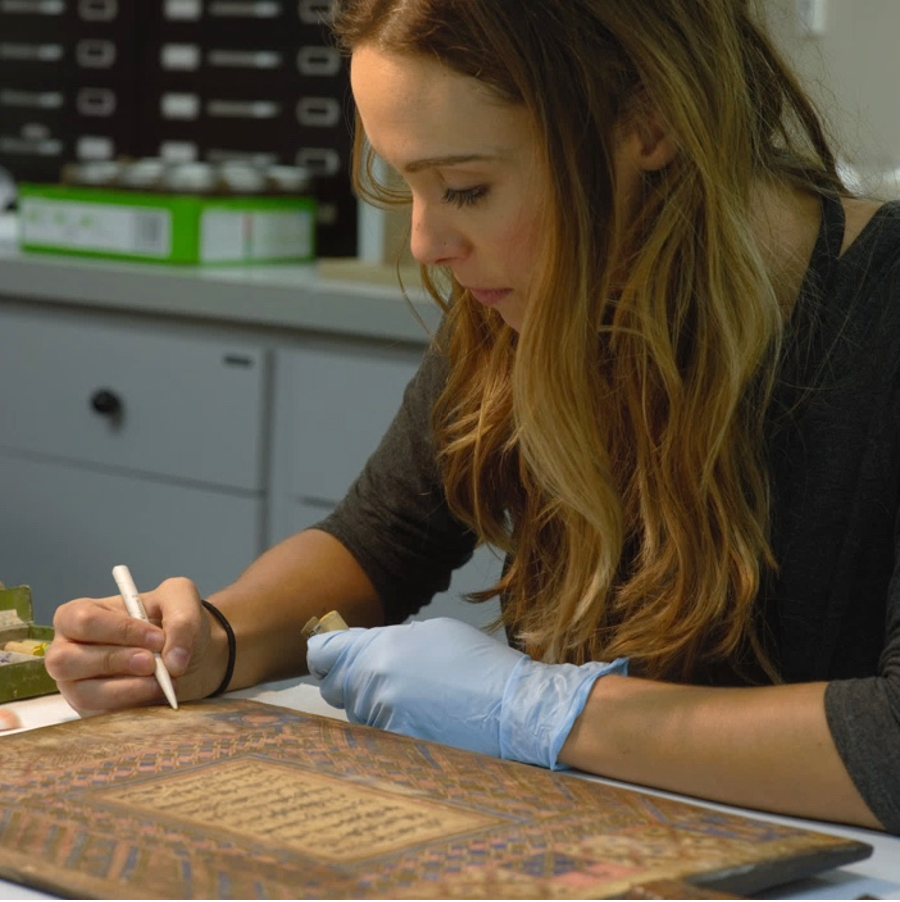 Jessica Betz Abel 
2017 – 2019
As Mellon Fellow Jessica was lead conservator on the installation of the first permanent Native North American Gallery, collaborated with an Emory Geologist to properly identify and classify minerals and stones in the Ancient Near East and Egyptian Galleries, and developed an innovative treatment approach to desalinating Egyptian limestone. She co-presented this research at the 2020 Annual Conference of the American Institute for Conservation. Prior to becoming a Mellon Fellow Jessica worked at the Museum of Modern Art, the Smithsonian Museum Conservation Institute, and the Hirshhorn Museum and Sculpture Garden. She has also done archaeological conservation work at Gordion, Turkey and Samothrace, Greece. She earned a Masters of Science in Architectural Conservation from Columbia University, as well as a BA in Art History and a BFA in Studio Art from the University of Colorado. Jessica is a Professional Associate of the AIC and is currently a project conservator at the Penn Museum.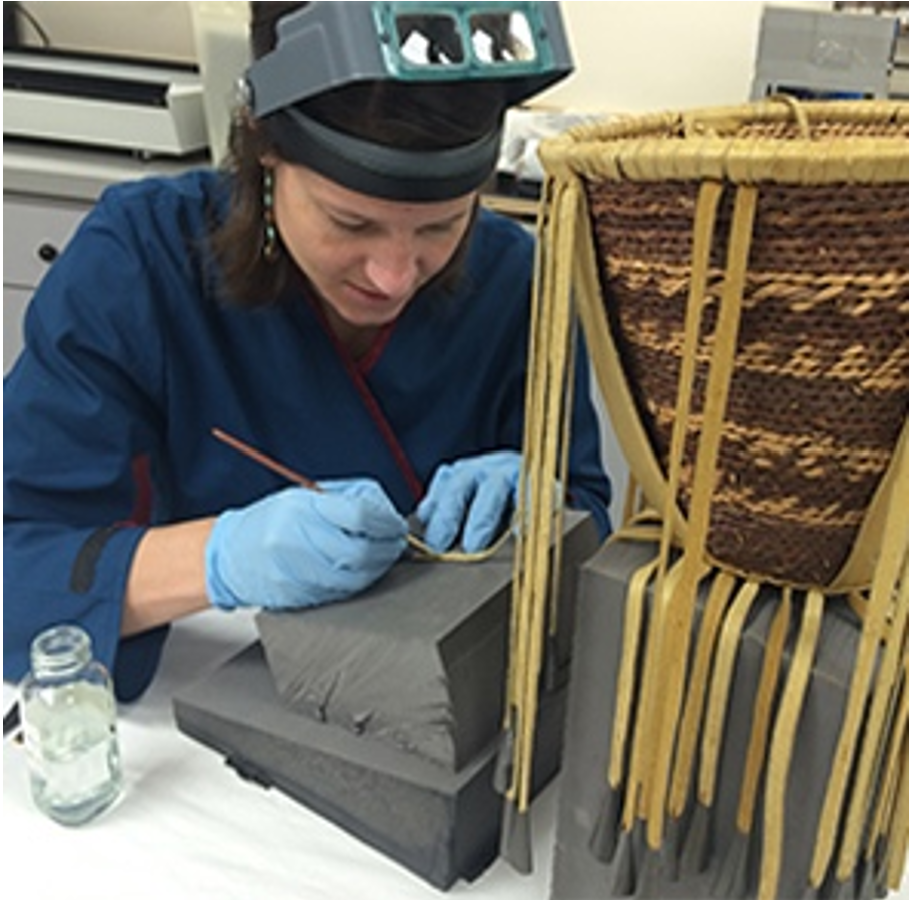 Brittany Dolph Dinneen
2015 – 2017
Before joining the Parsons Conservation Lab as Mellon Fellow, Brittany worked at the National Museum of African Art, National Museum of American History, and the Kelsey Museum of Archaeology. As Mellon Fellow she managed conservation treatment for the exhibition Coiling Culture: Basketry Arts of North America.  She pursued research on accumulative surfaces on African power objects in collaboration with an Emory Art Historian.  She also investigated the use of agarose gel in conservation treatment. She has worked as a conservator at archaeological sites in Jordan, Azerbaijan, and Greece. She received an M.A. from the UCLA/Getty Program in Conservation of Archaeological and Ethnographic Materials,  following a B.A. in Anthropology/Archaeology from the University at Buffalo. She is a Professional Associate of the American Institute for Conservation, and Brittany is now the Assistant Conservator at the Carlos Museum.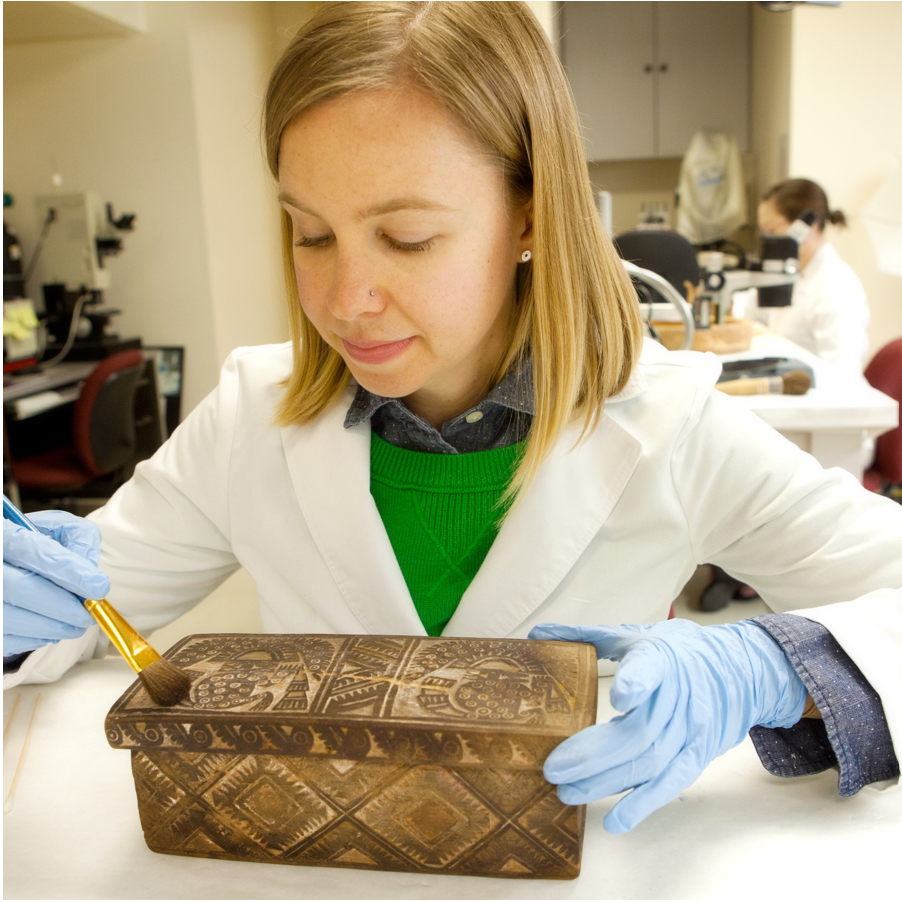 Ashley Jehle
2013 – 2015
While at the Carlos, Ashley surveyed and rehoused the cuneiform tablet collection and treated a variety of objects, including selections for the African Cosmos exhibition and a Dogon Kanga mask. She researched the treatment of feathers and prepared a Bamileke feather shirt for display. Ashley previously held a fellowship at the Yale University Art Gallery and an internship at the Metropolitan Museum of Art. She earned an M.A. from the Buffalo State College program in art conservation and a B.A. in Art History from Florida State University. Ashley is a Professional Associate of the American Institute for Conservation, and she is currently an objects conservator at the Smithsonian National Museum of African Art.
Watch Ashley's presentation on the examination and treatment of a Dogon Kanaga mask HERE.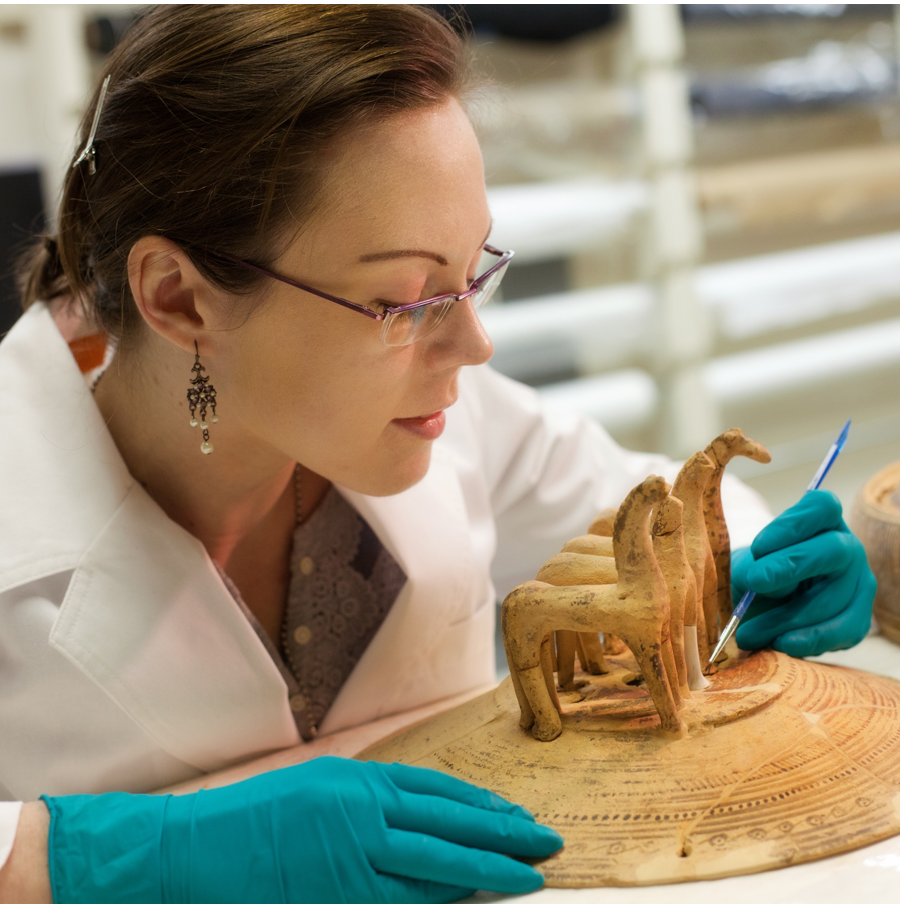 Kathryn Etre
2010 – 2012
Kathryn became the Carlos Museum's first Mellon Fellow after completing a fellowship at the Detroit Institute of Art. She undertook research to source obsidian objects and to identify the purple colorant on slip-decorated ceramics from ancient Panama. She contributed to collaborative courses taught in Physics and Environmental Sciences. As Mellon Assistant Conservator (2012-2015) she managed treatment for the reinstallation of the Greek and Roman Art galleries and also worked as conservator at Malqata, Egypt and at Oǧlanqala, Azerbaijan. She has an undergraduate degree from Boston University with majors in History, Archaeology, and Classic Civilizations and graduated from the Institute of Archaeology of University College London with a Masters of Science in Conservation for Archaeology and Museums. Kathryn is a Professional Associate of the American Institute for the Conservation, and she is now the Director of Conservation at the Mississippi Department of Archives and History (MDAH) Museum Division.
Watch Kathryn's presentation on the treatment of a pyxis from the Geometric Age in Greece HERE.