Image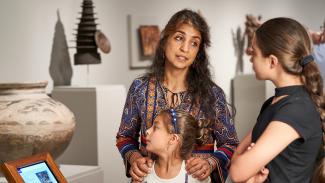 Membership Matters
Deepen and enrich your experience with art by joining the Carlos Museum. Membership supports innovative learning opportunities and groundbreaking exhibitions as well as the care and conservation of the museum's renowned collections. Members enjoy benefits such as exclusive exhibition previews and discounts at the bookshop and on programs and events.


Update
In recognition of the museum's closure, we will offer all members the choice of a complimentary extension of their membership, renewing as usual, upgrading to enjoy more museum benefits, and/or the opportunity to make a donation to the museum's annual support fund in demonstration of their ongoing support. Once the museum returns to normal operations, we will share these options with members again at their time of renewal.

If you have any questions or concerns, or just want to say hello, please feel free to contact Jennifer Kirker at jennifer.kirker@emory.edu or  404-727-2251.


Give the Gift of Membership
Share the Carlos Museum with family, friends, and colleagues. The gift of membership provides a year of art and unique experiences for someone special. Art has the power to change lives— your gift can do that, too. 
Join or Renew Online    Join or Renew by Mail