Image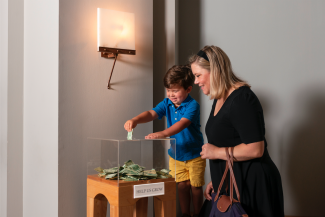 Contribute to the Carlos
Thank you for considering a donation to the Michael C. Carlos Museum. Every gift matters and provides essential resources for the renowned collections, interdisciplinary programs, research partnerships, and exhibitions that make the Carlos Museum a nexus for scholarship and service at Emory.
You may designate your support to any area of the museum's work that interests or inspires you, and you may honor or remember someone with your gift.
Thank you for your contribution to the Carlos!
Financial Gifts
Gifts can include donations; transfer of property, stock, or securities; and bequests or trusts as well as matching gifts. Gifts can be made at one time or pledged over specific periods of time. 

Corporate and Foundation Partnerships
Grants and support from businesses and foundations fund the work of the museum in alignment with mutual goals and interests.

Gifts of Art
The museum has an active acquisition program and welcomes the opportunity to grow through donations of art. Objects must fit within the scope and quality of the collections and the priorities of the museum. All proposed gifts are reviewed by curators and museum administration before acceptance.

Planned Gifts
Donations to the Carlos Museum can also be made as part of your estate planning. Whether a transfer of property or securities or a bequest, your gift can make a significant impact.

For more information on these and other giving opportunities, contact Jennifer Kirker at jkirker@emory.edu or 404-727-2251.