Image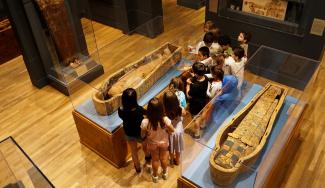 Docent Guild 

One of the most vital components of the Carlos Museum's Office of Educational Programs is the Docent Guild. Our docents lead thousands of children and adults through the galleries each year, facilitating conversations that begin with the object and use dialogue and inquiry, learning strategies to encourage discussion and ensure tours are engaging, fun, and educational. 
No previous knowledge of art or history is required to become a docent!
Candidates participate in a nine-month training program every August through April. Training includes attendance of Emory University's Art History 101 course, sessions with faculty and curators, in-gallery pedagogy and touring techniques with museum staff, and working with a mentor in the Docent Guild. During this time, candidates become part of an active learning community devoted to engaging visitors through art. Following successful completion of the training, candidates graduate to active docent status. 
The Emory community is open to all who have a commitment to the highest ideals of intellectual engagement, critical inquiry, and integrity. We welcome a diversity of gender identities, sexual orientations, abilities, disabilities, ethnic, cultural, socioeconomic, religious, national, and international backgrounds, believing that the academic and social energy that results from such diversity is essential to advancing knowledge, addressing society's most pressing issues, and attending to the full spectrum of human needs in service to the common good.
 
The next docent class will begin August 2022. One docent class is trained per academic year, and each docent class is comprised of approximately 15 candidates. If you are interested in volunteering with the Docent Guild in the future, please email Katie Ericson at kericso@emory.edu.

Benefits of volunteering at the Carlos Museum
Docents inspire a love of museums, art, and history in visitors.   
Docents contribute to the growth and educational reach of the Carlos Museum.
Active docents have the option to audit Emory University courses that are relevant to the Carlos collection (with permission of the professor).  
Docents have access to special lectures, events, and training from curators and other experts.
Docents are members of a vibrant community of individuals dedicated to improving the cultural landscape of Atlanta through education and the arts.
Interested in becoming a docent?
The Carlos Museum will host two information sessions for those interested in becoming a docent. Each session will last approximately 45 minutes, and will go into further detail about the training process, expectations, and benefits. Participants will be able to hear from current docents about their experiences, and have the ability to ask docents and museum staff questions.
May 11, 12 - 1 p.m.  Register in advance for this webinar by clicking HERE.
May 18, 5 - 6 p.m. Register in advance for this webinar by clicking HERE.