Image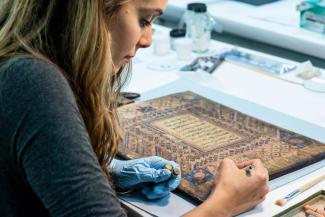 Our Work
Conservation is concerned with the long-term preservation of cultural property through examination, documentation, analysis, preventive care, and treatment. A variety of examination and analysis methods are used to identify materials and methods of manufacture, assess condition and document past repair, investigate deterioration mechanisms, and test treatment protocols.
Preventive care includes monitoring the museum's environment to control temperature, humidity, light, pollution, and pests as well as promoting safe practices for the display, storage, and transport of objects. Treatment undertaken to improve structural stability and aesthetic appearance may include reshaping, cleaning, repair, and reconstruction of the wide variety of materials in the museum collection.
The Parsons Conservation Lab is dedicated to the treatment of the museum's collections and does not routinely undertake projects for other institutions or private owners. The American Institute for Conservation provides information about the field, routine care of objects, and how to locate a conservation professional.

Narrated slide presentation describing conservation work through examples from the Carlos Museum.
Conservator's Closet
In this series, Conservators from the Carlos Museum and Emory Libraries share professional practices and practical tips on the care of: