Holiday Shopping at the Bookshop
This holiday season, be sure to visit the Carlos Museum Bookshop to browse our selection of intriguing books and gifts, with new items for all ages arriving every week. Don't miss our featured sale books, available at a 50-75% discount off their original prices, showcased right outside the bookshop. Act fast as supplies are limited, and these titles sell out quickly.
New in the Bookshop for fall 2023

With the opening of the new exhibition You Belong Here: Place, People, and Purpose in Latinx Photography, the Carlos Museum Bookshop is now featuring fascinating new books relating to Latinx photography and history in the United States. These are just some of the new books we'll be featuring during the run of this exhibition. 
Latinx
Aperture magazine presents a special issue that celebrates the dynamic visions of Latinx photography across the United States. Guest edited by Pilar Tompkins Rivas, chief curator at the Lucas Museum of Narrative Art in Los Angeles, "Latinx" spans a century of image making, connecting historical and contemporary photography, and covering the themes of political resistance, family and community, fashion and culture, and the complexity of identity in American life. "Collectively, their images cast a greater net for the multiple ways of seeing Latinx people," Tompkins Rivas notes of the issue's photographers, "creating a visual archive whose edges are yet to be defined." $24.95 softcover. Supplies are limited; contact the Museum Bookshop to order this title before it sells out!
Making the Latino South
In the 1940s South, it seemed that non-Black Latino people were on the road to whiteness. In fact, in many places throughout the region governed by Jim Crow, they were able to attend white schools, live in white neighborhoods, and marry white southerners. However, by the early 2000s, Latino people in the South were routinely cast as "illegal aliens" and targeted by some of the harshest anti-immigrant legislation in the country. This newly published book helps explain how race evolved so dramatically for this population over the course of the second half of the twentieth century. Author Cecilia Marquez guides readers through time and place from Washington, DC, to the deep South, tracing how non-Black Latino people moved through the region's evolving racial landscape. $27.95 softcover.
El Norte: The Epic and Forgotten Story of Hispanic North America 
El Norte chronicles the sweeping and dramatic history of Hispanic North America from the arrival of the Spanish in the early 16th century to the present, from Ponce de Leon's initial landing in Florida in 1513 to the Mexican-American War in 1846 and up to the more recent tragedy of the ongoing border acrimony with Mexico. Interwoven in this stirring narrative of events and people are cultural issues that have been there from the start but which are unresolved to this day: language, belonging, community, race, and nationality. Seeing them play out over centuries provides vital perspective at a time when it is urgently needed. Walt Whitman wrote in 1883: "We Americans have yet to really learn our own antecedents, and sort them, to unify them," predicting that "to that composite American identity of the future, Spanish character will supply some of the most needed parts." That future is here now. $23 softcover.
Dreamers
This lovingly-illustrated picture book memoir looks at the myriad gifts migrantes bring with them when they leave their homes. It's a story about family, and it's a story to remind us that we are all dreamers, bringing our own strengths wherever we roam. The lyrical text is complemented by richly detailed illustrations, a brief autobiographical essay about Yuyi's own experience, and a description of the beautiful images, textures, and mementos she used to create this book. A parallel Spanish-language edition, Soñadores, is also available. $18.99, hardcover, for ages 4 to 8.
For more books related to the You Belong Here: Place, People, and Purpose in Latinx Photography, visit the list on our non-profit e-commerce site, Bookshop.org. 
Come into the bookshop to browse these and all our other expertly-curated books and gifts, in one of the most unique bookshops in the country. Not all books are in-stock in the bookshop, due to ongoing supply chain shortages and delays, but can often be ordered from our non-profit e-commerce site at Bookshop.org, where all purchases ordered from the Carlos Museum's storefront on the site will benefit the museum.  See below for more information. To order by phone or to reserve a copy (supplies are limited), contact the bookshop by email.
Hours
Tuesday-Friday         11 a.m. — 4 p.m.
Saturday                    11 a.m. — 5 p.m.
Sunday                        1 p.m. — 5 p.m. 
Closed Mondays and university holidays. 
For details, visit the museum's Hours and Operations page. 
Due to staffing limitations, there may be unexpected Bookshop closures; however, if you want to be sure the Bookshop is open when you visit the museum, contact Bookshop Manager Mark Burell by email in advance. We also feature a great selection of books and gifts by mail order, with shipping and curbside pickup options.  

The Bookshop is actively processing mail orders Monday through Friday, 9 a.m. - 4 p.m., except during university holidays. Bookshop Manager Mark Burell is checking email seven days a week, so please reach out with questions or mail orders. Email your order, shipping address, and phone number to Bookshop Manager Mark Burell at mburell@emory.edu. 
 For more information or to place an order, please contact Bookshop Manager Mark Burell at mburell@emory.edu or 404-727-2374. (Please include your phone number in your email.)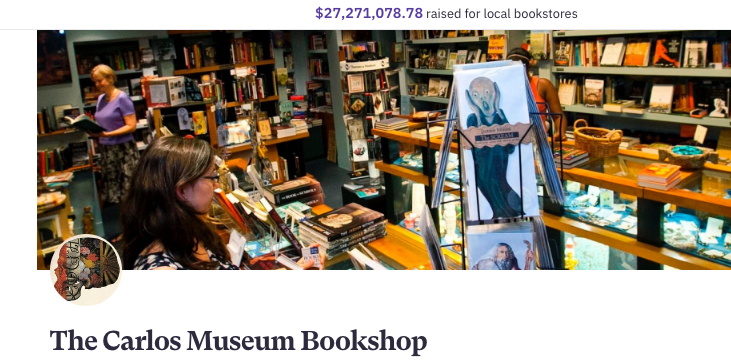 Visit us at Bookshop.org
We now offer online purchasing for shipping to your home through our new non-profit online bookstore at Bookshop.org.
Create an account with Bookshop.org and place orders from within our storefront (look for "The Carlos Museum Bookshop" at the top left of the webpage to make sure you are in our storefront), and all sales will benefit the Carlos Museum. A portion of each purchase also supports hundreds of other independent bookstores around the country.
Learn more about Bookshop.org here or contact Mark Burell at mburell@emory.edu for more information.

Support the Carlos Museum on Bookshop.org.