Ancient Egypt in the Bookshop for 2023

With the opening of the new exhibition Life and the Afterlife: Ancient Egyptian Art from the Senusret Collection, the Carlos Museum Bookshop is now featuring fascinating new books relating to the world of the ancient Egyptians. In addition to these featured titles, we have one of the largest selections of books on ancient Egypt of any bookstore in the country, so be sure to come in and browse them all!  Or browse and place orders at our online store at the nonprofit site Bookshop.org. 
The Egyptian Book of the Dead: The Book of Going Forth by Day 
Written and illustrated almost 3,300 years ago, The Papyrus of Ani is a papyrus manuscript with cursive hieroglyphs and color illustrations. To most, it is the most beautiful, best preserved, and complete example of ancient Egyptian philosophical and religious thought known to exist. This twentieth anniversary edition of The Egyptian Book of the Dead has been revised and expanded to include:  a survey of the continuing importance of ancient Egypt in modern culture, a detailed history of Egyptian translation and scholarship since the discovery of the Rosetta Stone in 1799, an annotated bibliography and study guide for ancient Egyptian studies.
The Complete Tutankhamun: 100 Years of Discovery 
On November 4, 1922, Lord Carnarvon and Howard Carter's long search in Egypt's Valley of the Kings drew to a triumphant close: Tutankhamun's tomb had been found. One hundred years later, both the fascination and the drama continue. Scientific research has moved on, and the results have been impressive: the tomb's ground-plan and setting are now fully remapped; CT-scanning and aDNA (ancient DNA) have begun to shed their unique light on Tutankhamun in life and in death; super-accurate recordings have been secured of the Burial Chamber's decorated walls; and we possess at last high-quality photography of Pharaoh's possessions. Access to Carnarvon and Carter's extraordinary find is greater today than it has ever been, and from this fuller evidence comes one new realization among many--that both the tomb and its treasures had been intended for someone else.
The Egyptian Myths: A Guide to the Ancient Gods and Legends 
This survey of Egyptian mythology explores how the ancient Nile-dwellers explained the world around them, delving into the creation and evolution of the world and the reigns of the gods on earth, before introducing us to the manifestations of Egypt's deities in the natural environment; the inventive ways in which the Egyptians dealt with the invisible forces all around them; and their beliefs about life after death. Egyptologist Garry Shaw guides us through the mythic adventures of such famous deities as Osiris, the god murdered by his jealous brother Seth; the magical and sometimes devious Isis, who plotted to gain the power of the sun god Re; and Horus, who defeated his uncle Seth to become king of Egypt. He also introduces us to lesser known myths, such as the rebellions against Re; Geb's quest for Re's magical wig; and the flaying of the unfortunate god Nemty. From stars and heavenly bodies sailing on boats, to the wind as manifestation of the god Shu, to gods, goddesses, ghosts, and demons, Shaw goes on to explain how the Egyptians encountered the mythological in their everyday lives.
Egypt's Golden Couple: When Akhenaten and Nefertiti Were Gods on Earth
Akhenaten has achieved fame as history's first monotheist, but others have seen him as an incestuous tyrant who nearly ruined the kingdom he ruled. The gold funerary mask of his son Tutankhamun and the painted bust of his wife Nefertiti are the most recognizable artifacts from all of ancient Egypt. But what can we actually say about rulers who lived more than three thousand years ago? Akhenaten and Nefertiti became gods on earth by transforming Egyptian solar worship, innovating in art and urban design, and merging religion and politics in ways never attempted before.Combining fascinating scholarship, detective suspense, and adventurous thrills, Egypt's Golden Couple is a journey through excavations, museums, hieroglyphic texts, and stunning artifacts. From clue to clue, renowned Egyptologists John and Colleen Darnell reconstruct an otherwise untold story of the magnificent reign of Akhenaten and Nefertiti.
For more books related to the Life and the Afterlife: Ancient Egyptian Art from the Senusret Collection exhibition, visit the list on our non-profit e-commerce site, Bookshop.org. 
Come into the bookshop to browse these and all our other expertly-curated books and gifts, in one of the most unique bookshops in the country. To order by phone or to reserve a copy (supplies are limited), contact the bookshop by email.
For mail-order options and to browse a selection of new and notable books that we usually carry in the store, please visit our non-profit e-commerce site. Create an account tied to the Carlos Museum Bookshop and all your online mail order purchases will benefit the museum.
Hours
Tuesday-Friday         11 a.m. — 4 p.m.
Saturday                    11 a.m. — 5 p.m.
Sunday                        1 p.m. — 5 p.m. 
Closed Mondays and university holidays. 
For details, visit the museum's Hours and Operations page. 
Due to staffing limitations, there may be unexpected Bookshop closures; however, if you want to be sure the Bookshop is open when you visit the museum, contact Bookshop Manager Mark Burell by email in advance. We also feature a great selection of books and gifts by mail order, with shipping and curbside pickup options.  

The Bookshop is actively processing mail orders Monday through Friday, 9 am - 4 pm, except during university holidays. Bookshop Manager Mark Burell is checking email seven days a week, so please reach out with questions or mail orders. Email your order, shipping address, and phone number to Bookshop Manager Mark Burell at mburell@emory.edu. 
 For more information or to place an order, please contact Bookshop Manager Mark Burell at mburell@emory.edu or 404-727-2374. (Please include your phone number in your email.)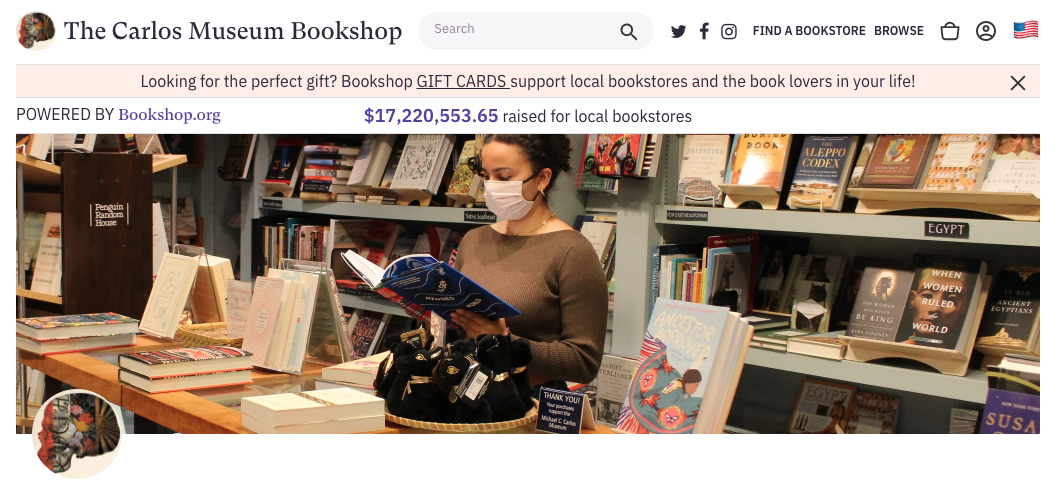 Visit us at Bookshop.org
We now offer online purchasing for shipping to your home through our new non-profit online bookstore at Bookshop.org.
Create an account with Bookshop.org and place orders from within our storefront (look for "The Carlos Museum Bookshop" at the top left of the webpage to make sure you are in our storefront), and all sales will benefit the Carlos Museum. A portion of each purchase also supports hundreds of other independent bookstores around the country.
Learn more about Bookshop.org here or contact Mark Burell at mburell@emory.edu for more information.

Support the Carlos Museum on Bookshop.org.