Image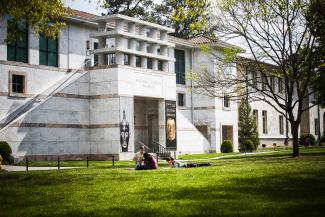 About the Carlos Museum
Set in the heart of Emory's campus, the Michael C. Carlos Museum, is a dynamic, interdisciplinary center for the study of art and culture, with collections from Africa; ancient Egypt, Nubia, and the Near East; ancient Greece and Rome; the Indigenous Americas; and South Asia; as well as American and European Works on Paper. 

Through our permanent collection galleries, engaging special exhibitions, and innovative programs for audiences of all ages, the Carlos Museum connects the past with the present and the campus with the community.
Mission

The Michael C. Carlos Museum of Emory University collects, preserves, exhibits, and interprets art and artifacts from antiquity to the present in order to provide unique opportunities for education and enrichment in the community and to promote interdisciplinary teaching and research at Emory University.
 
History 
Emory University's collections date back to 1876 when a museum was formed on the original campus in Oxford, Georgia. At this stage in its development, the museum's collection resembled the Renaissance wunderkammer, or "wonder room;" here, an assortment of objects such as artifacts collected by Methodist missionaries and Emory faculty working in Asia were displayed for the enjoyment of the public.

After the collection moved to Emory's main campus in 1919, attempts were made to transition the eclectic assortment from Oxford into a research-quality collection. Through the mid-20th century, the collection grew in the areas of natural science and archaeology.  

The museum began a period of significant transition in the 1980s, as Emory faculty worked to refine the collection and find a permanent home for the museum with the assistance of university administration. In 1985, with the support of local philanthropist Michael C. Carlos, the museum moved into the old law school building, whose renovation was designed by Michael Graves.

The collection of the Emory University Museum of Art and Archaeology as it was then known had been reorganized and refocused to align with the research and teaching objectives of university faculty in areas such as Latin American, African, and classical art and Middle Eastern Studies.

Fewer than 10 years later, the growth of the museum's collections necessitated a new space. In 1993, an expanded museum and a new conservation laboratory, also supported by Michael C. Carlos and designed by Michael Graves, opened as the Michael C. Carlos Museum. 

In 2019, the museum celebrated 100 years of inspiring generations of Emory faculty and students as well as visitors from Atlanta and beyond who have sought to enrich their lives through the study of and experiences with art. 
Address
571 South Kilgo Circle NE
Atlanta, GA 30322
Bookshop
Mark Burell, Manager
404-727-2374
mburell@emory.edu
Employment
We are part of the Emory University system. Click here to learn more about open positions.