Image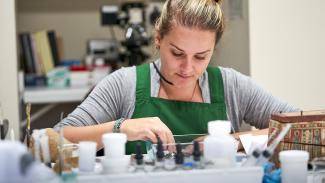 Opportunities
The Parsons Conservation Lab offers student opportunities including courses, research projects, and internships. Semester-long academic courses on conservation and technical art history are offered through the Art History Department. Students may also enroll in directed study to develop object-centered research projects supervised by conservators.
Academic credit or volunteer internships may be arranged at the discretion of the conservators, and the museum's annual Mellon Internship may include positions in the lab.
The lab also hosts graduate interns from conservation degree programs and offers a biennial Mellon Advanced Fellowship for emerging conservators.