Image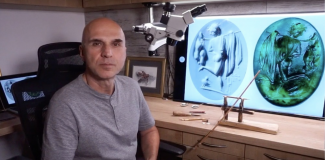 Chavdar Chushev is an artist, restorer, jeweler, and master of the ancient art of gem carving. His intimate knowledge of gemstones and precious metals is complimented by a familiarity with more unusual materials, such as exotic woods, coral, and fossils. This unparalleled expertise and distinct creative vision have made him one of the most respected jewelry designers in his field. Chavdar creates his works utilizing a blend of ancient and cutting-edge technologies to allow the metals, gems, and organics to merge freely in a bold and harmonious installation. 

From November 8-12, Chushev will be in residence at the Carlos, conducting programs for Emory students and the public in conjunction with the exhibition, Making an Impression: The Art and Craft of Ancient Engraved Gemstones on view now through November 27, 2022. 
During his artist residency, Chushev will participate in a variety of programs. Join Curator of Greek and Roman Art Ruth Allen for a public conversation with Chavdar about the materials, tools, and techniques used by artisans in antiquity and today on November 8 at 7:30 p.m. in Ackerman Hall. Or sign up for an engraving gem engraving workshop in which you will tour the exhibition with Chushev, learn about gem selection, iconography, and technique, and engrave your own intaglio gem.
Join us for one or more of the programs listed below.
Curatorial Conversation with master gem engraver Chavdar Chushev
Tuesday, November 8 | 7:30 p.m.
Ackerman Hall
For details, click HERE.
 
Chavdar Chushev Tour and Workshop for Emory Community*
Friday, November 11 | 11 a.m
Ackerman Hall
For details, Click HERE. 
*For Emory students, faculty, and staff

Gem Engraving workshop for adults with Chavdar Chushev
Saturday, November 12 | 10 a.m.
Ackerman Hall
To register, click HERE. 
 
In the following video, watch as Chusev uses replica ancient tools to create a replica of a Roman chromian chalcedony gemstone from the Michael C. Carlos Museum's collection of ancient gemstones.,  This video, and replica gem, were created for the special exhibition, Making an Impression: The Art and Craft of Ancient Engraved Gemstones, August 27-November 27, 2022.