What does it mean to see and be seen by the divine?

What does it mean to see the divine in new ways?

These are the questions underlying Transcendent Deities of India: The Everyday Occurrence of the Divine, an exhibition of more that 70 works of art by Raja Ravi Varma, Manjari Sharma, and Abhishek Singh. 

For Hindus in India, images of gods and goddesses are an integral part of religious practice. These images inspire worshippers and artists alike, populating the art of the region for thousands of years and demonstrating their power through hundreds of millions of daily encounters as part of rituals at temples, shrines, and other settings within India and the broader diaspora. 

Transcendent Deities of India explores the visual communion between human and divine. Through prints, photographs, graphic art, paintings, and illustrations, Varma, Sharma, and Singh offer modern and contemporary interpretations of traditional imagery that position Hindu gods and goddesses within viewers' frame of reference, ensuring their seamless applicability in new eras. 
Available at the Museum Bookshop 
Copies of Abhishek Singh's new book, Namaha: Stories from the Land of Gods and Goddesses, are available for purchase in the Bookshop, and will also be available at his artist talk on Tuesday, January 21.

Namaha: Stories from the Land of Gods and Goddesses is a collection of short stories inspired by the ancient wisdom literature of India. Singh's work, acclaimed around the world for its unique style of storytelling with compelling illustrations and enthralling text, takes readers into the fantastical world of Indian mythology, deciphering its many symbolic and ecological layers.

Hardcover (imported from India), $29.99
*Supply is limited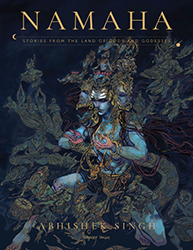 For the press
Manjari Sharma (born 1979). Lord Vishnu, 2013. Chromogenic print. Lent by the artist.
Manjari Sharma (born 1979). Maa Laxmi, 2011. Chromogenic print. Lent by the artist.
Abhishek Singh (Indian, born 1982). Let Go (from KRISHNA: A Journey Within), 2010. Digital print. Lent by the artist.
Raja Ravi Varma (Indian, 1848-1906). Chandra, ca. 1925. Lithograph with fabric and embellishments. Lent by OJAS Art/Ramchander Nath Foundation.