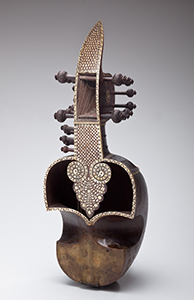 Experience Wondrous Worlds: Art & Islam Through Time & Place with a performance of  Indian classical music from the Hindustani Sangeet tradition from Hyderabad, India, performed just after dawn by Muslim artists whose families have carried this musical tradition for many generations. They perform on the sarangi, a rare, bowed instrument, an example of which featured in the exhibition. The musicians play on-site at a Sufi Dargah, the tomb-shrine of a Muslim mystic named Shaykh Ji Hali Abul Ulai, who died in 1813, against the backdrop of his white marble tomb, an exquisite example of Mughal architectural design. 
Scott Kugle, professor of Islamic and South Asia Studies at Emory, introduces the music, musicians, and Islamic architecture of Hyderabad, where he has lived and worked for many years. This performance is co-sponsored by the South Asia Seminar Series at Emory University. 
Click on YouTube logo to make videos fullscreen.

Sarangi: Ustad Mohammed Aslam Khan
Tabla: Ustad Najmuddin Javed
Sufi Dargah Custodian: Pir Muzaffar Shah Abul-Ulai
Producer: Jayanti Rajagopalan of Detours Hyderabad
Videographer: Mohammed Sabir Ali