We read a lot. These books, purchased from the Carlos Museum Bookshop, are the ones we recommend to friends, purchase as gifts, and return to over and over again.
Send your orders by email, with phone number and shipping address, to Bookshop Manager Mark Burell at mburell@emory.edu.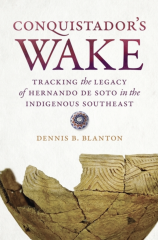 Conquistador's Wake: Tracking the Legacy of Hernando De Soto in the Indigenous Southeast 
Recommended by Patricia Stone, Carlos Museum Docent
In 2005, archaeologist Dennis Blanton was looking to complement excavations done on the coastal Georgia island of St. Catherines. There, evidence of a flagship, early 17th-century Spanish mission was gathered. A small outlier mission was known to exist in the interior, possibly alongside some unknown Indian village on the Ocmulgee river. Sometimes archaeologists find what they are looking for (often they don't), and then there are the times they find something completely unexpected. 
Evidence of Hernando De Soto's year's long "Entrada" throughout the Southeastern US is often more a relic seeker's quest than serious scholarly pursuit. Blanton's team found such evidence along with a completely novel and sophisticated Native ceremonial structure and town. This book is a narrative of a multiseason collaborative adventure of discovery and the necessary rigorous documentation demanded by a De Soto find. $29.95, paperback.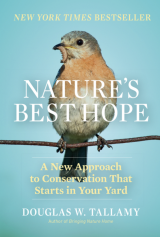 Nature's Best Hope: A New Approach to Conservation that Starts in Your Yard  
Recommended by Patricia Stone, Carlos Museum Docent
Those of us who enjoy gardening are usually interested in something more than outdoor decor. We toil in the sun and soil because we wish to both support wildlife and commune with Nature. We've read the experts' books, poured over the plant catalogues, and the more conscious among us also eschew the manicured lawn and use of pesticides. Yet, Douglas Tallamy's scholarly studies presented in this book tells us we are still doing it all wrong!
Bird, pollinator, and general insect population declines continue unabated. Tallamy is no prophet of gloom and doom. Instead his book is a hopeful outline of how by modifying our home gardens we can cobble together the country's largest "national park" dedicated to native species preservation. 
Nature's Best Hope offers the easy remedies and the harder, more long-term solutions. But it is all doable, and the refuge created for Nature will also provide a beautiful and meaningful sanctuary for ourselves. $29.95, hardcover.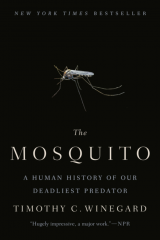 The Mosquito: Human History of Our Deadliest Predator 
Recommended by Patricia Stone, Carlos Museum Docent
One could place it as humanity's greatest miss. Throughout history summer rains and marshes were thought to harbor "Bad Air" a translation of "Malaria." It wasn't until the end of the 19th century that the connection was made between the insect and diseases such as malaria and yellow fever.
For millennia, armies, colonists, and average citizens just trying to live their lives perished from these intangible disease enemies, meanwhile enduring the additional scourge of insufferable mosquitos, tiny predators shaping innumerable aspects of human history and creating our modern world.
This book provides a sobering realization that we humans are still at the mercy of invisible enemies and that scientific understanding of disease vectors will continue to determine our destiny. $18, paperback.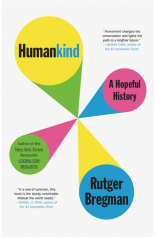 Humankind: A Hopeful History  
Recommended by Mark Burell, Bookshop Manager
We all need a break from the weight of this epically bad year, and here is the book for that. In his new book, Dutch historian Rutger Bregman makes the case that tens of thousands of years of human history suggests there is much more room to be optimistic than pessimistic about the future. 
A quick and spritely run through the distant and near past, with plenty of anecdotes showing that cooperation and altruism seems to be the human norm, leads him to believe that we are hardwired for kindness more than for ruthless competition, and it would serve us well to reorient our expectations of our fellow humans accordingly. Reading this warm, funny, and hopeful historian's evaluation of our prospects may convince you to believe the same thing! $30, hardcover.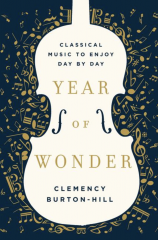 Year of Wonder: Classical Music for Every Day
Recommended by Elizabeth Hornor, Ingram Senior Director of Education
One of the books helping me to find joy through all of this, as well as remember what day it is, is Year of Wonder: Classical Music for Every Day by Clemency Burton-Hill, BBC radio host and columnist for BBC Culture, and award-winning violinist. In Year of Wonder, Burton-Hill suggests that listening to music can be a daily ritual of self-care like meditation and exercise—"sonic soul maintenance," she calls it.
She has carefully selected a single piece of music for every day of the year and written short introductions to provide context, share stories about the composers, most important to Burton-Hill, remind listeners that the creation of music, like art, is an exercise in human connection. The works range from the medieval period to the present day and can be accessed on iTunes, Spotify, and sometimes in recordings of live performances on YouTube. $25.99, hardcover.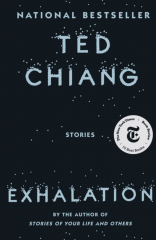 Exhalation: Stories 
Recommended by Elizabeth Hornor, Ingram Senior Director of Education
Since focusing has been more difficult these days, I am turning to short stories and was gobsmacked by "The Merchant and the Alchemist's Gate," the first story in Ted Chiang's 2019 collection Exhalation. (Chiang has won every sci-fi award possible, and the recent Oscar-nominated film The Arrival was based on one of his short stories.) 
With my mind on our upcoming exhibition, Wondrous Worlds: Islamic Art Through Time and Place, I was intrigued instantly by the main character and setting, a Muslim fabric merchant in medieval Bagdhad, but through a magic mirror in the marketplace, Chiang's protagonist escapes the boundaries of time and place in order to come to terms with his past mistakes. It is an astonishing story, and I can't wait to read the rest of the collection. $16.95, paperback.