Experience the extraordinary collections of the Carlos Museum virtually! Our virtual tours provide an interactive way for students to engage with art objects across collections through standard-aligned themes and topics. All our virtual tours are inquiry-based, occur in real time, and are facilitated by museum educators, providing teachers and students with opportunities for interaction, connection, and reflection.
Program Details
Virtual tours are available Monday—Friday, 10 AM—noon. If you would like to schedule a virtual tour at a time other than those offered, please reach out; we are happy to work with you! 

Reservations must be made at least two weeks in advance.
 
Length
Teachers may choose between a 30- or 45-minute interactive program.
Group Size
Fee
| | |
| --- | --- |
| Title I School | Non-Title I School |
| $50 | $75 |
Delivery and Set-up
All virtual tours will be hosted on a video conferencing platform co-hosted by the primary teacher. Zoom is preferred, but not required.
Teacher attendance is required throughout the virtual tour.

Technology Set-up Session 
Teachers are encouraged to complete a 15-minute technology set-up session one week prior to their scheduled tour. The set-up session can help prevent any potential connectivity or compatibility issues.
Carlos Museum staff will contact you to schedule a date and time. If a teacher opts out of the set-up session, no refunds will be issued for user issues that occur during the virtual tour.
Payment
A credit card payment will be required at the time of booking. You will be provided with a confirmation email indicating that you have received and paid for your tour.
 
Cancellation Policy
72-hours notice is required for tour cancellations to receive a full refund.
Schedule a Tour
Reservations must be completed online. Click below to check availability and book virtual tours. 
Don't see a good fit for your class schedule? If you would like to schedule a virtual tour at a time other than those offered, please reach out; we are happy to work with you! 
For additional information or questions about programs, policy or cost, please email Katie Ericson at kericso@emory.edu.  
Tours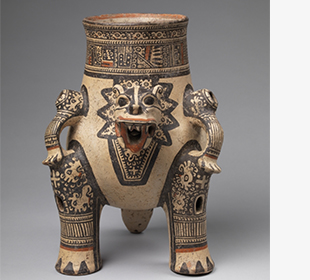 Animals in Art | Grades K–5 (Visual Art, Science, ELA) 
Explore animals in the Carlos collections to learn how artists throughout time and across cultures have been keen observers of nature, how different cultures experienced animals in their daily lives, and how they reimagined them in works of art. Students are encouraged to make observations and inferences that foster visual literacy; and identify key characteristics of the animals represented. 
Georgia Standards of Excellence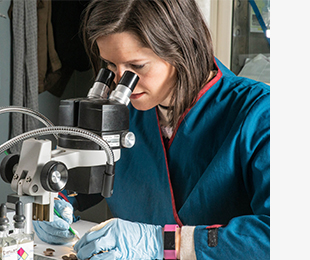 Science of Art Conservation | Grades 4–12 (STEAM)
Learn to think like a conservator, understanding the real-world questions and problems that museums confront when working with material that can be thousands of years old. This interactive tour examines three major areas on which conservators focus: research, treatment, and prevention.
Georgia Standards of Excellence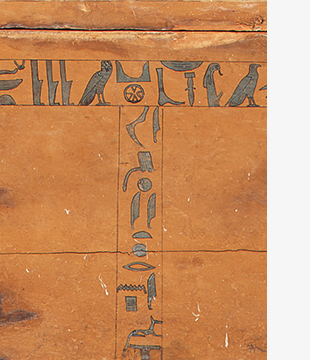 Hieroglyphs at the Carlos | Grades 3–8 (ELA, Visual Art)
5,000 years after they were developed by the ancient Egyptians, hieroglyphs continue to fascinate us! Though this pictorial writing system is made up mostly of images of natural and man-made objects, it isn't as simple as it might seem. A single hieroglyph might represent a sound, an object, or an abstract concept. On this interactive tour, students will explore hieroglyphs on carvings, decorated coffins, pottery, and even tiny amulets in the Carlos Museum's Egyptian galleries to discover the richness of ancient Egyptians' "divine words."
Georgia Standards of Excellence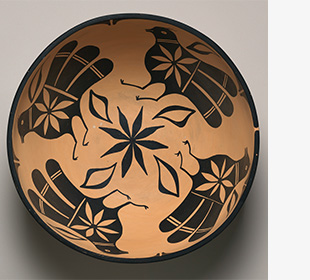 Living Traditions: Native North American Art | Grades 2–12 (Visual Art, Social Studies, ELA)
How were early Native North American communities impacted and inspired by their environment? How did the environment determine choice of materials and imagery? From intricate Cherokee baskets to bold Haida designs, students will examine the work of Native North American artists from the 19th century to the present and explore how contemporary artists balance tradition and innovation.
Georgia Standards of Excellence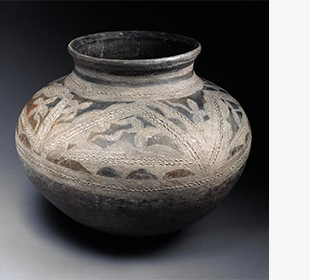 Water: The Source of Civilization | Grades 4–12 (Visual Art, Social Studies)
What can works of art tell us about a culture's relationship to water? How have different cultures responded to the excess and scarcity of water throughout history? How does water shape social structures? What role does it play in ritual? Explore these questions through and engaging, interactive look at works of art across the collections of the Carlos Museum.
Georgia Standards of Excellence