Artist-in-Residence: Abhishek Singh , January 14-21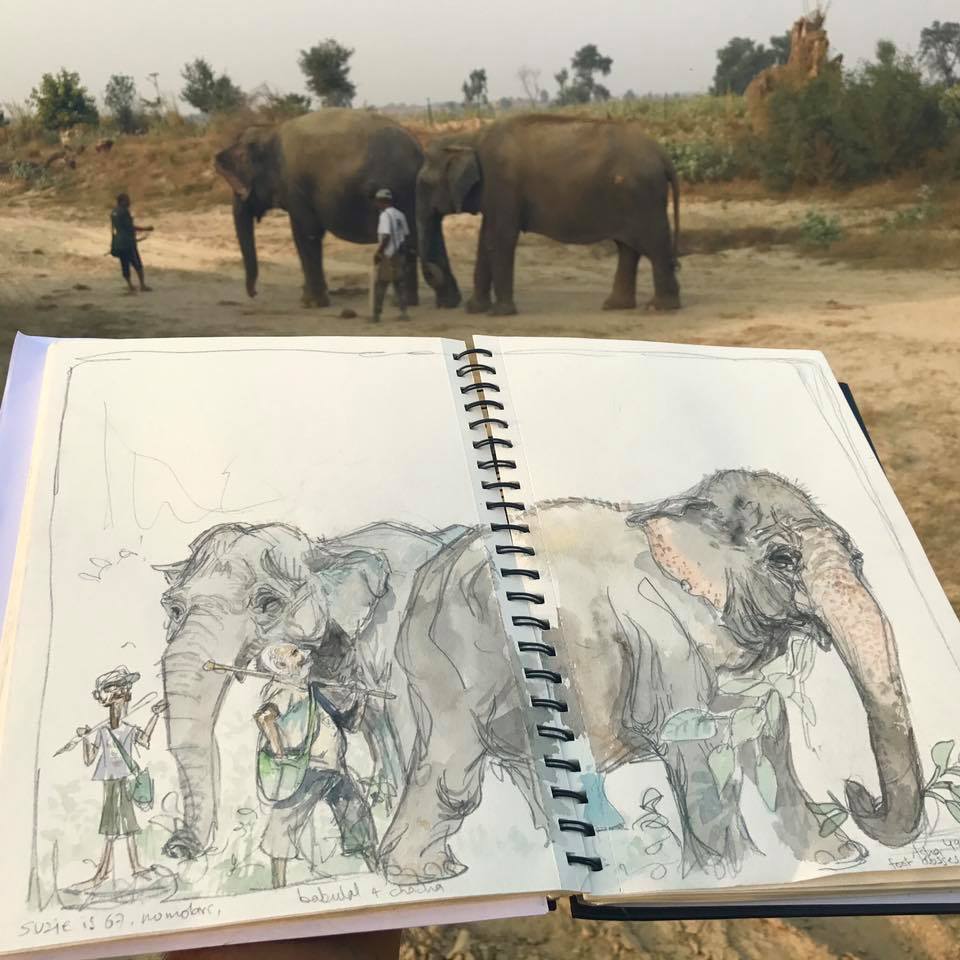 The Carlos Museum welcomes Abhishek Singh for a weeklong residency in conjunction with the exhibition Transcendent Deities of India: The Everyday Occurrence of the Divine. In drawings, paintings, graphic novels, and animations, Singh reimagines subjects drawn from the major epic narratives of India, connecting the spiritual and the symbolic, the temporal and the sacred. He endeavors to uncover that which has been revered and worshipped for centuries and to better understand its continuing power and fresh relevance in each era. While in Atlanta, Singh will paint at various locations on campus and around the city. When the work is complete, it will join his other images in the exhibition.

The subject of the "live painting" is the multiple forms of the elephant-headed god Ganesha. Singh's representations of the deity are informed not only by his deep knowledge of Indian culture and religion but also by his understanding of the essential role the majestic animals play in the ecosystem of India.

"The elephants are integral to the creation of the forests. After visiting the mountains for more than a decade, I was stirred to go and see the elephants that were recurring in my dreams and paintings.  I worked with various elephant organizations to educate myself on their state of affairs. In the process, they welcomed me into their sacred space."  —Abhishek Singh

Singh's residency is made possible by the Andrew W. Mellon Foundation and the David Goldwasser Fund for Religion and the Arts.
Live Painting Times and Locations
Tuesday, January 14 | 11 AM – 4 PM
Emory Student Center Commons
605 Asbury Circle
Atlanta, GA 

Thursday, January 16 | 11 AM – 4 PM
Georgia Tech
Clough Undergraduate Learning Commons Atrium
266 4th Street NW
Atlanta, GA

Friday, January 17 | 11 AM – 4 PM
Emory Student Center Commons  
605 Asbury Circle
Atlanta, GA 

Saturday, January 18 | 11 AM – 4 PM
Hindu Temple of Atlanta
5851 GA-85
Riverdale, GA 

Sunday, January 19 | 11 AM – 4 PM
Hindu Temple of Atlanta
5851 GA-85
Riverdale, GA

Monday, January 20 | Noon – 5 PM
Atlanta BeltLine, adjacent to the Historic Old Fourth Ward Skate Park

 
Artist Talk and Book Signing
Tuesday, January 21 | 7:30 PM
Ackerman Hall
Artist Abhishek Singh will discuss the painting of the elephant-headed deity Ganesha he created at various locations around the city, from the imagery taken from Indian religion and culture and his experiences caring for elephants to the experiences with students and members of the Atlanta community as he painted.


Available at the Museum Bookshop
Copies of Singh's new book, Namaha: Stories from the Land of Gods and Goddesses, may be ordered from the Bookshop by calling 404-727-0509 or emailing Mark Burell at mburell@emory.edu.

Namaha: Stories from the Land of Gods and Goddesses is a collection of short stories inspired by the ancient wisdom literature of India. Singh's work, acclaimed around the world for its unique style of storytelling with compelling illustrations and enthralling text, takes readers into the fantastical world of Indian mythology, deciphering its many symbolic and ecological layers.

Hardcover (imported from India), $29.99
*Supply is limited