One of the many responsibilities of the Emory Libraries Conservation Lab is to rehouse scrapbooks from The African American History Collection at The Stuart A. Rose Manuscript, Archives, and Rare Book Library. The collection consists of scrapbooks and photo albums from prominent authors, educators, entertainers, and historical figures. The preservation of these items is important to chronicling Black lives through their own lens and supplying a counterpoint to popular historical rhetoric and ideas. Often they are overstuffed with rare photographs, personal memorabilia, or yellowing newspaper articles. The original pages can be acidic, brittle, and collected in a photo album that is degrading.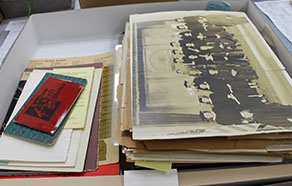 These condition issues are often a result of the object's age, storage, and the materials used to create the original album. Currently at my bench is a scrapbook from the pianist George Walker (1915-2018). The scrapbook's pages have adhered photographs, articles, performance programs, and even a report card that chronicles Walker's life and career. It is in the beginning stages of being rehoused. The image to the right shows the deconstructed scrapbook. Its acidic pages have been cropped down to a uniform size (right) and also contains memorabilia that sat at the front of the album, including a smaller photo album and passport book (left). The pages also have folded material that will be opened and measured to gauge the size of the new "pages" of the scrapbook.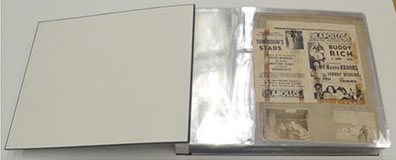 From there, the pages will be sleeved in preservation mylar and bound The result is a scrapbook accessible to researchers that preserves the life and integrity of the item. When not in use, the scrapbook will return to its archival housing—a custom-fitted acid-free box, similar to how some objects are stored in the Carlos Museum.  An example of a finished rehoused scrapbook is pictured to the left.
Age is something we cannot combat, but storage concerns can be addressed. While it's not always possible to recreate a conservator's work at home, being mindful of how you choose to house your memories can affect their physical longevity. To put together a preservation-conscious scrapbook or photo album consider:
Things to avoid
Self-adhesive photo albums use materials that can breakdown overtime to ooze or form a powdery substance. Once the adhesive degrades, the photos are no longer held in place and are at risk for becoming stained by the adhesive, lost, or crushed.

Acidic pages will yellow, and it is possible for this degradation to migrate to photos. Pages will degrade and become brittle, weakening them. 

Avoid any albums that have sleeves or any plastic components made of polyvinyl chloride vinyl (PVC); this plastic off-gases, creating a strong odor; will yellow; become oily and sticky interfering with clarity; and begin to breakdown photographs and other memorabilia.
Things to do
Use acid-free envelopes and archival grade boxes/albums.

Use mylar sleeves or photo pages.

Store albums away from water, light, and dust as much as possible.

Do not store in basements or attics—instead, store objects in a closet, interior room, or the most temperature regulated room of the house.
Examples of archival materials and their use (this list is not an endorsement)
Purchasing:
https://www.universityproducts.com/photo-products/portfolios-and-cases
https://www.lineco.com/photo-and-film
https://www.gaylord.com/c/Photo-Print-and-Art-Preservation
https://www.talasonline.com/archival-storage/boxes
Resources:
https://www.gaylord.com/resources/understanding-plastics-for-preservation
https://www.gaylord.com/resources/know-your-archival-plastics-infographic
To learn more about the scrapbooks at the Stuart Rose Manuscript, Archives and Rare Book Library, check out this blog series highlighting a "Save America's Treasures" Grant Project.