Every Sunday at 2 PM, museum docents lead Highlights Tours, which are open to the public. These tours are free with museum admission and no prior registration is required.  
You may also schedule a docent-led tour of the Carlos Museum's collections and exhibitions for your adult group of 10 or more. Tours are available Tuesday through Saturday.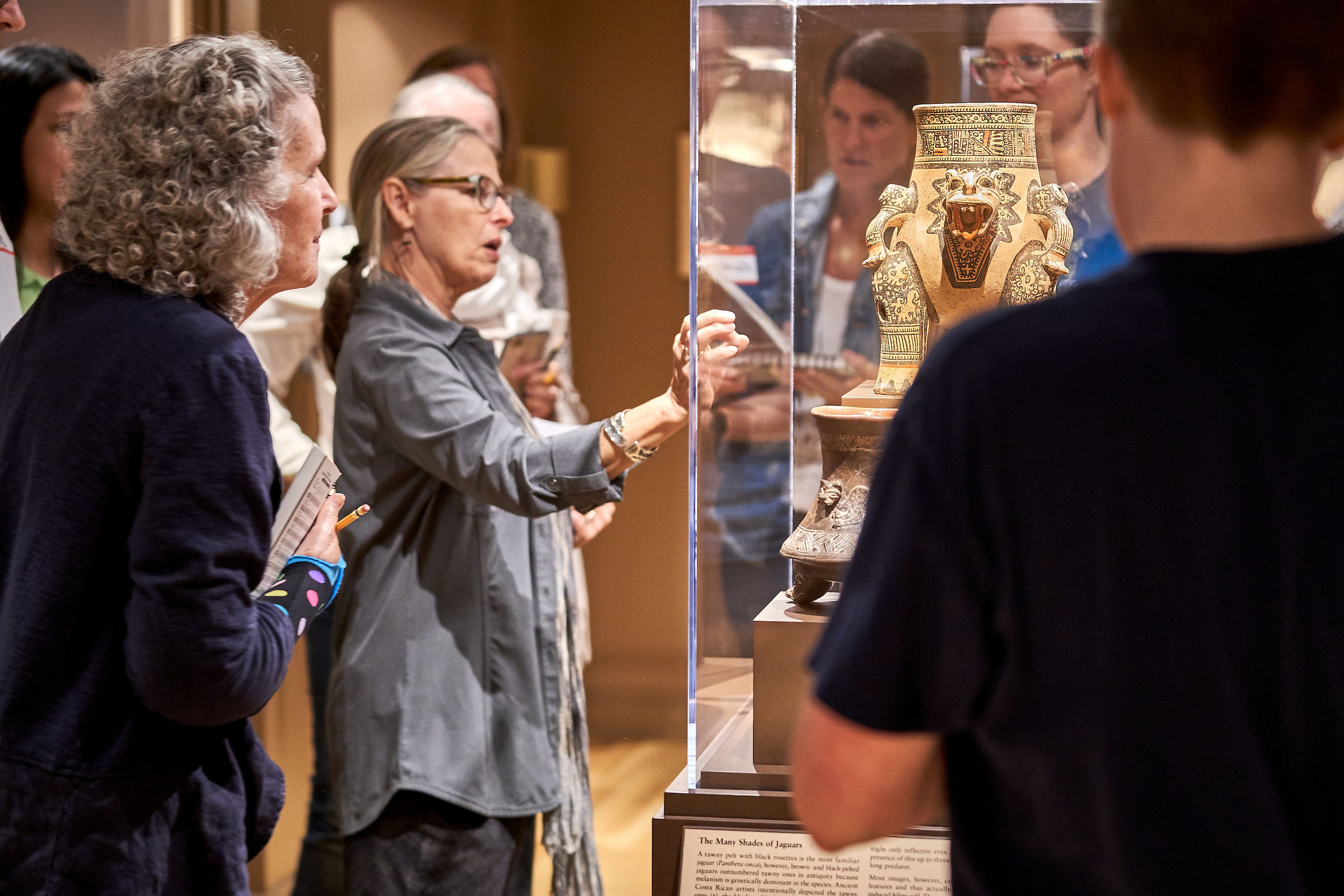 Tour Options
Highlights 
On Highlights Tours, visitors are introduced to the art and cultures represented in the collections the Carlos Museum. Highlights Tours offer an overview of the entire collection or may be focused on ancient Egypt and the Near East, ancient Greece and Rome, the art of the Americas, 19th- and 20th- century Africa, or Buddhist and Hindu art from South Asia.  

Birding at the Carlos  
One of the few animals to appear as a subject in the art of nearly every culture, birds have long fascinated humans. Unleash your inner ornithologist on a guided tour that looks at the various birds that human beings have observed in their environment and represented in their art. This tour has been developed in conjunction with the Atlanta Audubon Society.   

The Science Behind Conservation  
Guests learn to think like a conservator, exploring the questions and problems that museums confront when working with material that can be thousands of years old and extremely delicate. This tour examines three major areas conservators focus on—research, treatment, and prevention—and looks at the steps the Carlos takes to understand and protect artwork for future generations.  

Museum Moments 
Museum Moments is a tour designed for people with mild cognitive impairment or dementia and is based on the successful "Meet Me" program developed by the Museum of Modern Art in New York. Engaging in conversation about works of art at the Carlos Museum can spark imagination, trigger memories, and facilitate a shared experience. Individuals with mild cognitive impairment, early Alzheimer's, or dementia are invited to attend Museum Moments tours with a family member or caregiver.

Museum Moments tours are offered on Mondays at 2 PM when the museum is otherwise closed to the public. Contact Katie Ericson at kericso@emory.edu or 404-727-2363 to schedule your visit.  
Seating for this program was made possible by a gift from Sylvia Dodson in memory of her husband, James Dodson.