Every Saturday and Sunday at 2 PM, museum docents lead Highlights Tours, which are open to the public. These tours are free with museum admission and no prior registration is required.  
Guided Tours
You may also schedule a docent-led tour of the Carlos Museum's collections and exhibitions for your adult group of 10 or more. Tours are available Tuesday through Friday, beginning February 1, 2022. If you would like to schedule a tour for your group at a time other than those listed, please contact Katie Ericson at kericso@emory.edu.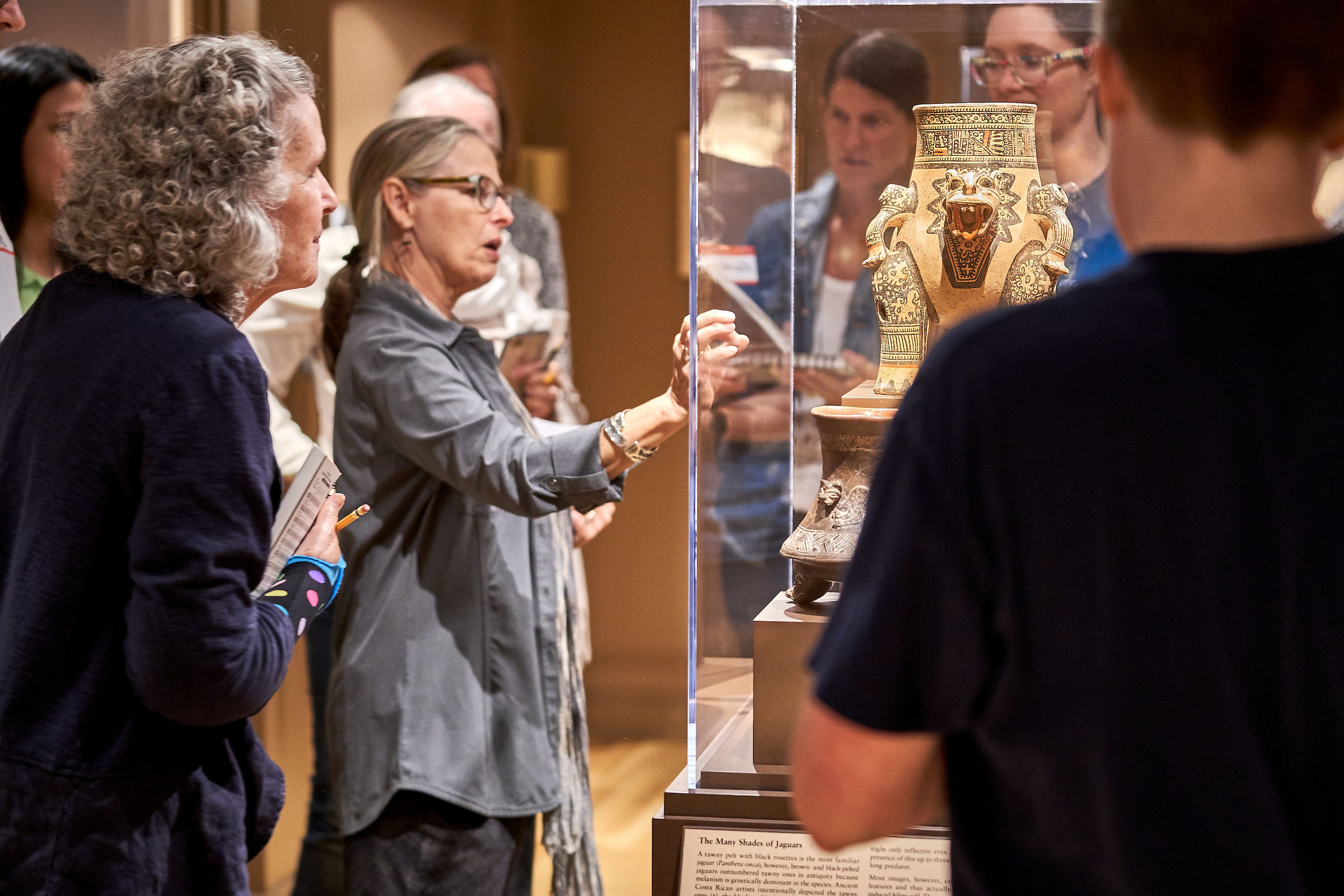 Tour Options
Highlights 
On Highlights Tours, visitors are introduced to the art and cultures represented in the collections the Carlos Museum. Highlights Tours offer an overview of the entire collection or may be focused on ancient Egypt and the Near East, ancient Greece and Rome, the art of the Americas, 19th- and 20th- century Africa, or Buddhist and Hindu art from South Asia. 


Special Exhibition: Each/Other: Marie Watt and Cannupa Hanska Luger
On view September 25 – December 12, 2021
Each/Other: Marie Watt and Cannupa Hanska Luger is the first exhibition to feature together the work of Marie Watt and Cannupa Hanska Luger, two leading Indigenous contemporary artists whose processes focus on collaborative artmaking.
Exploring the collective process of creation, Each/Other features over two dozen mixed-media sculptures, wall hangings, and large-scale installation works by Marie Watt and Cannupa Hanska Luger, along with a new monumental artist-guided community artwork. While each artist's practice is rooted in collaboration, they have never before worked together or been exhibited alongside one another in a way that allows audiences to see both the similarities and contrasts in their work.
Marie Watt, who resides in Portland, Oregon, is a citizen of the Seneca Nation and has German-Scots ancestry. Cannupa Hanska Luger, who is based in New Mexico, is a citizen of the Three Affiliated Tribes (Mandan, Hidatsa, Arikara) of Fort Berthold and has Lakota and European ancestry.

Belief, Behavior, and Belonging
In a pluralistic society, religious literacy is essential. The collections of the Carlos Museum provide an opportunity to engage with the ways in which religion has shaped cultures since the beginning of civilization. Works of art can communicate a culture's beliefs and behaviors and can spark conversations about ways in which ethics, values, and beliefs influence individual behavior and create a shared sense of belonging. Developed in conjunction with Georgia 3Rs Project, this interactive tour is designed to promote dialogue and understanding. 


Drawing in the Galleries
Extending the long tradition of drawing in museums; close looking and drawing exercises in the galleries of the Carlos will introduce or reinforce the principles and elements of art and increase visual literacy and observation skills.


The Science Behind Conservation  
Guests learn to think like a conservator, exploring the questions and problems that museums confront when working with material that can be thousands of years old and extremely delicate. This tour examines three major areas conservators focus on—research, treatment, and prevention—and looks at the steps the Carlos takes to understand and protect artwork for future generations.


Water: The Source of Civilization
Guests are invited to explore the ways in which different cultures have approached the excess and scarcity of water and how this natural resource has influenced civilization throughout history, particularly through art, design, ritual, and religion.   


Self-Guided Tours
Guests may also guide their own tours through the galleries for groups of 5 or more. To prevent overcrowding, self-guided groups must be scheduled through the Office of Educational Programs. Please reserve a time online and select the self-guided tour option. 
General Tour Information
Tour Times
Tours are offered Tuesday – Friday at 12 PM, 1 PM, and 2 PM. Please plan to arrive 15 minutes before your tour is scheduled to begin. Tours are approximately 1-hour in length.   

COVID-19 Safety Precautions
Masks that cover the nose and mouth are required at all times for anyone over the age of two while on Emory University's campus regardless of COVID-19 vaccination status in accordance with

Emory University's Visitor Policy

.

Only one public tour group will be permitted in the galleries per hour, and group sizes are limited to avoid overcrowding. 

Hand sanitizing stations are located throughout the museum.

Group Size 
Minimum group size is 10 guests per tour. Maximum group size is 50 guests per tour. Groups larger than 50 may schedule back-to-back tours on the same day or visit the Carlos over multiple days.  

Fees
| | |
| --- | --- |
| 10-20 Individuals | $120.00 |
| 21-30 Individuals | $180.00 |
| 31-40 Individuals | $240.00 |
| 41-50 Individuals | $300.00 |

Late Arrivals 
Contact the Office of Educational Programs at 404-727-4667 to alert us of a late arrival. If you arrive late, your tour may be shortened due to other scheduled groups. Groups who arrive more than 30 minutes late will forfeit their reservation.   
Parking (by car or van)
The museum is located on the historic quadrangle on the campus of Emory University. If coming in cars, please park at either the Fishburne Deck or Oxford Road Visitor's Deck. If you are arriving by bus, please read the directions (see below), and share with your driver to ensure easy bus access to campus.  
Bus Parking and Drop-Off
Please do not use a GPS if you are arriving by bus. Directions provided through GPS are excellent for personal vehicles, but they do not provide proper access routes into campus for buses.  
All buses must enter the Emory campus at the intersection of Clifton Road and Fishburne Drive.  

You will approach a bus drop-off zone on the right at the bottom of the hill on Fishburne Drive. 

Guests should be dropped off at the bus drop-off zone, from which they can safely cross the bridge and enter the Plaza Level of the museum.