The Stuart A. Rose Library loaned rare 17th- and 18th-century books to the Michael C. Carlos Museum for the exhibition Through a Glass, Darkly: Allegory and Faith in Netherlandish Prints from Lucas van Leyden to Rembrandt. On this and other exhibitions, Emory University Library conservators work with the Carlos Museum conservators and exhibition designers to ensure that special collections books are displayed in the safest conditions.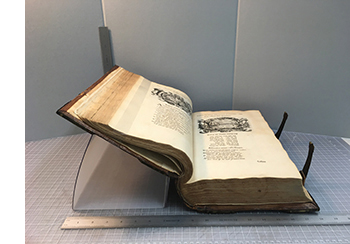 We also collaborate with curators to determine if each volume is a good candidate for exhibition. Some volumes may need conservation treatment such as tear mending and re-attachment of cover boards. A custom-designed cradle is fabricated for each volume, which allows for optimal viewing, supports the weight of the book, and does not place stress on the binding which could cause damage to the spine, joints, and sewing.
Most books displayed open require additional systems to hold the pages down without obscuring the text and illustrations. A common solution is the addition of a polyester strap that gently holds the adjacent pages open. Display pages can be secured with a set of tiny rare earth magnets that are toned to match the color of the page. All methods of display need to be stable enough to withstand the vibrations of foot traffic and any accidental jostling of the exhibition cases.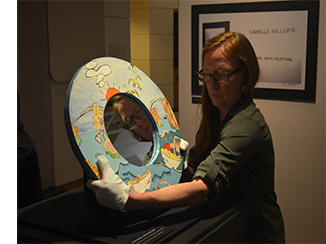 Some media—whether the material of the binding or the type and illustrations on the pages in the text block—are more sensitive to fading and will require specific gallery lighting recommendations. While excessive humidity puts books at risk for mold, extremely dry conditions can harm leather and parchment bindings, leading to cracking and warping of covers. The library conservators and museum exhibition design team work together to set optimal levels for light, temperature, and humidity as well as select appropriately sized exhibition cases.
Many of our recommendations can be applied to your own special book collections.
Handling, display, and storage:
It is not necessary to wear gloves while handling books, as long as your hands are clean and dry. In fact, cotton gloves should be avoided, as they might snag on the edges of fragile pages.

While reading or displaying special books, avoid opening too widely. You will feel a gentle resistance when the binding reaches its safest maximum opening. For exhibition, we build custom cradles which hold the book open to a specific angle. At home you might use two small pillows or rolled towels under the front and back covers.

Avoid storing or displaying your books in direct sunlight or any other harsh light sources.

Avoid storing your books where they might experience extreme fluctuations in temperature and humidity. Mold can develop at high humidity, and warping can occur at extremely low humidity. Especially avoid storing your books in basements or attics without air conditioning. Bookshelves on exterior walls may also experiences fluctuations in temperature and humidity.

Avoid displaying your books on the mantle of an actively used fireplace. Not only does this put books and artifacts at unnecessary risk, but also heat and soot accelerate the degradation of embrittled materials.

Dust on a regular basis, even if just for a spring or fall cleaning; mold feeds on dust. When vacuuming or dusting with a soft bristle brush, clasp the covers of your book firmly together to avoid transferring dust down between the pages.

Avoid storing your books in attics, basements, and garages where they might be at risk to creatures such as such as silverfish, booklice, cockroaches, and rodents, who feed on or make nests out of paper and cloth.

Boxes create micro-climates that protect books from light, pests, and moderate variations in temperature and humidity. Consider storing your volumes in acid-free protective boxes when not in use, particularly if a book has loose pages or detached covers or ephemera, such as pressed flowers or locks of hair between pages.

The American Institute for Conservation provides further guidelines for protecting your special books and artifacts as well as contacts for conservators in your area who offer repair services.
Above, top: Testing the custom mount for the volume Imago Primi Saeculi Societis Iesu. Follow the hyperlink to view the fully digitized text through Emory libraries.
Above, bottom: Julie Newton deinstalls artwork from Rose Library's Still Raising Hell: The Art, Activism, and Archives of Camille Billops and James V. Hatch exhibition.